This phase delves into the essential components of starting and running a successful business. This phase is designed to equip you with a comprehensive understanding of the entrepreneurial process, from idea generation to implementation, and beyond.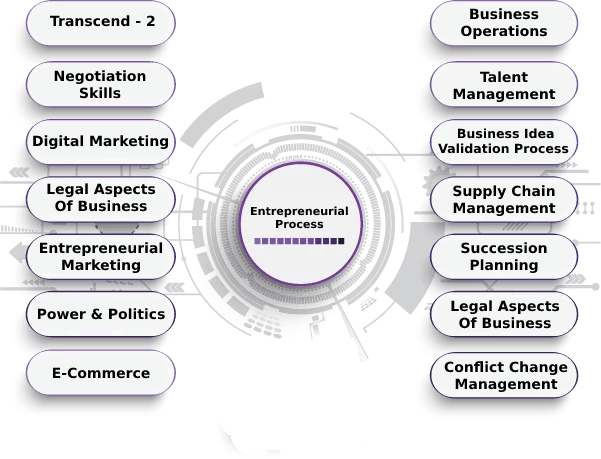 As the world of marketing moves from offline to digital, the great shift is explained through interactive case studies and activities, along with an outlook of what the resident entrepreneur needs to explore for his or her business from this arena.
Legal aspects are an indispensable part of a successful business environment in any country. They reflect the policy framework and the mindset of the Governmental structure of that country. They ensure that every company is functioning as per the statutory framework of the country. Every enterprise must take into account this legal set up while framing the basic aims and objectives of its company. This is because; it is necessary for e cient and healthy functioning of the organization and helps it to know about the rights, responsibilities as well as the challenges that it may have to face.
Legal Aspects of Business
Succession planning is about planning and executing a smooth transition of leadership positions of the organization.The purpose of succession planning is to make sure a company always has the right leaders in place. For a family business , succession plan ensures orderly transition of management and ownership to the next generation of the family. This includes establishing goals, decision making process, succession plan and transition plan. Key members of the family business under the guidance of the expert Coaches follow a systematic process which is supported by open communication.

New entrepreneurs are also encouraged to build a succession plan , where they identify key team members who can take up leadership roles and work towards training them in advance.
Service marketing is the key focus area in this module. Value proposition and customer satisfaction are two most crucial areas taught through this. Validation of ideas is based through this and the entrepreneur emerges clear with an insight of what business he or she is getting into.
Entrepreneurial Marketing
Conflict and Change Management
Conflict and change involves business situational as well as psychological dimension. Hence, it's important to understand them in full context and deal with them effectively. This module focuses on the tactics and mechanisms for effectively managing the change and conflicts of the business. It addresses the challenges faced by the family business as well as new ventures
Strong negotiation skills are critical for the success of entrepreneurs. Entrepreneurs have to constantly negotiate with an extensive range of external stakeholders and powerful internal teams. Unlike transactional negotiations, most negotiations of an entrepreneur mark the beginning or strengthening of relationships that are critical for business success.
Being self-aware is only the first step of becoming an accomplished individual. Habits and actions define who we are as a person. Setting goals and priorities, working on time management with so much going on, the resident entrepreneur becomes capable of handling multiple tasks and activities through this program.
This is the capstone project and the culmination of Idea Validation Stage. While implementing the classroom learning from various modules from this stage, students put their business idea through a feasibility analysis. Based on the Lean Startup Methodology of Build – Measure – Learn they interact with the potential customers, suppliers and industry experts. Post this , they create a thorough report , which gives them and the key stakeholders of the business – their parents a complete understanding of the potential of the idea. It provides a validation to the entrepreneur on the acceptability of the idea, basis which further development is assisted.
Business Idea Validation Project
Communication is one of the key skills to master if you want to succeed as an entrepreneur. An Entrepreneur has to constantly give presentations or address his potential investors, clients, employees and even media. Thus, it's very important to master this art of communication. This module emphasizes on public speaking, presentation skills and usage of visual aids to enhance presentation impact.