This phase enables an entrepreneur to take the business idea into the market, speak to potential customers, and understand the need for their product. Designed on the Lean Startup Methodology of Build – Measure – Learn, students continuously interact with potential users and rework the product/service basis the feedback received, this phase is one of the most crucial for assessment of business ideas. It provides a validation to the entrepreneur on the acceptability of the idea, basis which further development is assisted.

Learning Outcome: Validation to the Entrepreneur on the acceptance of his Business Idea in the Market through interaction with real buying customers, suppliers and industry experts.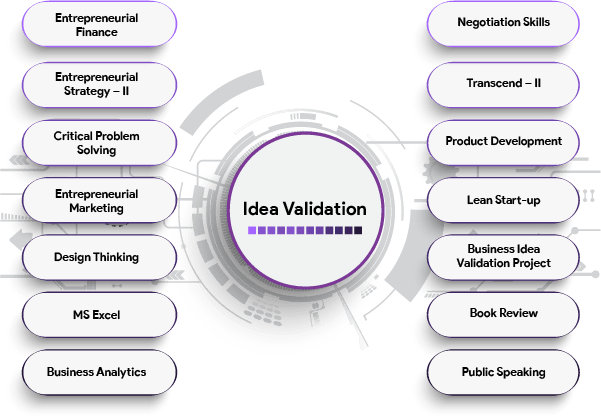 The best and most innovative ideas will never see the light of day unless they can obtain funding. How can you, as an entrepreneur, make the most convincing case to advance your projects and make them attractive to senior decision makers or outside investors? And how do successful companies and investors pick the best products and manage R&D investments? Effective product innovation relies on, clearly defined financial models and analysis.
The aim of this course is to make an entrepreneur get to the depths of strategy used for running businesses. Leadership, critical thinking and business acumen are derived through this module, by undergoing intensive case studies, rigorous presentations of strategic decision making.
Entrepreneurial Strategy – II
All the great products and services in the world started as unsolved problems. The definition of a business or the purpose of an organization is the same – to solve a problem faced by a certain mass of people. Yet most entrepreneurs spend the least amount of time on understanding problems and instead jump to designing products or services that often fail when applied to a real-world scenario. The best entrepreneurs in the world always started with a problem they personally faced or they believed they couldn't stand the sight of others facing it. As such, Critical Problem Solving is a key skill to successful entrepreneurship.
Service marketing is the key focus area in this module. Value proposition and customer satisfaction are two most crucial areas taught through this. Validation of ideas is based through this and the entrepreneur emerges clear with an insight of what business he or she is getting into.
Entrepreneurial Marketing
Design thinking is a non-linear, iterative process used to challenge assumptions, understand users, redefine problems and create innovative solutions to prototype and test.It is a human-focused, prototype-driven, innovative design process. Through this course, students develop a solid understanding of the fundamental phases and methods in design thinking, and learn how to implement your newfound knowledge in their entrepreneurial quests.
MS Excel has widespread applications,it allows entrepreneurs to store any data, view and track it in an organized manner.It helps to visualize data in many forms, creating different charts and analysis sheets. The powerful visualization tools make it easy for businesses to analyze and predict data and make informed decisions.
Business Analytics focuses on understanding the basic concepts of data analytics, business intelligence and data visualizations. It helps entrepreneurs to understand patterns and design an information driven business strategy. Understanding of data makes an entrepreneur aware of what's going on in the business world regarding data analytics using industry examples and teaches them when to use the "prediction logic" of analytics and the "creation logic" of entrepreneurship.
Strong negotiation skills are critical for the success of entrepreneurs. Entrepreneurs have to constantly negotiate with an extensive range of external stakeholders and powerful internal teams. Unlike transactional negotiations, most negotiations of an entrepreneur mark the beginning or strengthening of relationships that are critical for business success.
Being self-aware is only the first step of becoming an accomplished individual. Habits and actions define who we are as a person. Setting goals and priorities, working on time management with so much going on, the resident entrepreneur becomes capable of handling multiple tasks and activities through this program.
Design gives form to the core essence of a business, the product or service. Every decision in this form giving exercise is very critical for a venture as within the constraints of time, resources, finances etc. a compelling offering is to be created that the market would accept wholeheartedly. There is hardly any room for mistakes.
Lean startup is the modern approach to new venture creation. The methodology is about managing startups and applying continuous innovation for creating a new product faster. This method teaches students how to drive a startup-how to steer, when to turn, and when to persevere-and grow a business with maximum acceleration. It is a principled approach to new product development.
This is the capstone project and the culmination of Idea Validation Stage. While implementing the classroom learning from various modules from this stage, students put their business idea through a feasibility analysis. Based on the Lean Startup Methodology of Build – Measure – Learn they interact with the potential customers, suppliers and industry experts. Post this , they create a thorough report , which gives them and the key stakeholders of the business – their parents a complete understanding of the potential of the idea. It provides a validation to the entrepreneur on the acceptability of the idea, basis which further development is assisted.
Business Idea Validation Project
Book Review is a thorough description, critical analysis and evaluation of the quality, meaning and significance of the book. In this module students are required to do critical review of 11 books and make a presentation and submit a write up on the same. For some books even debates are held as part of evaluation.
Communication is one of the key skills to master if you want to succeed as an entrepreneur. An Entrepreneur has to constantly give presentations or address his potential investors, clients, employees and even media. Thus, it's very important to master this art of communication. This module emphasizes on public speaking, presentation skills and usage of visual aids to enhance presentation impact.