This stage of the program helps students think creatively and connect the dots. The interdisciplinary approach of the program stimulates their creativity, helps them explore existing brands and generate innovative products and service ideas  through real time activities. They start thinking like an entrepreneur and brainstorm interesting ideas.


Learning Goal : Identify and create entrepreneurial opportunities and generate possible business ideas for your future Start-up or ideas to expand your Family Business.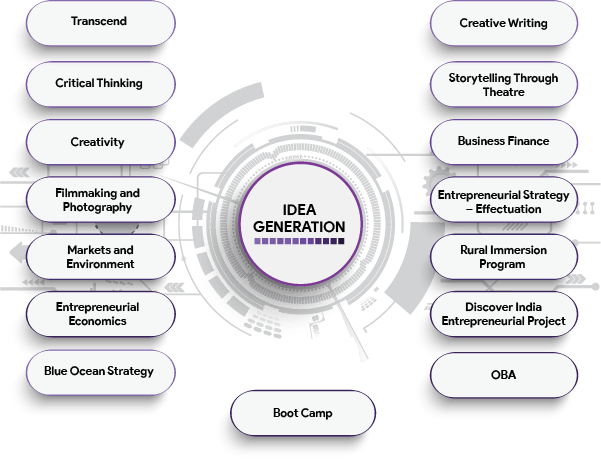 Transcend is a course for creating leaders for impact, agility and ethics which focuses on understanding key strengths and leveraging them for high performance. This course enables you to understand yourself better through your most important people and environments in which you operate. It provides self-development tools which are mapped and analysed for best performance in all aspects of life. Humans of MIDAS is a capstone project of this module. It is a practical way to incorporate empathy, the key to being an entrepreneur in the real world.
Critical thinking is skilled and active interpretation and evaluation of observation and communication, information and argumentation. Enhanced critical and creative thinking skill  helps entrepreneurs in recognizing opportunity, formulating the best possible idea, examining its viability and looking at the big picture.
Creativity allows you to thrive in an ever changing world and opens up numerous possibilities. With enhanced creativity instead of problems you see potential, instead of obstacles you see opportunities and instead of challenges you see a chance to create breakthrough solutions. This is the reason Creativity is of utmost importance to an entrepreneur. The students are introduced to key concepts in innovation, how to harness individual and group creativity, methods of generating and recognizing ideas and building an environment that fosters innovation in organizations.
Photography is an art that stimulates imagination, it helps students to be better at visualization and when combined with modules like Creativity , Theatre , Design Thinking etc its acts like a catalyst and gets the creative juices flowing for the students. This interactive, collaborative and hands on module also helps students to express their ideas better.
Filmmaking and Photography
This course aims to cover all important aspects of marketing that will assist the students in their idea generation process which includes introduction to marketing, consumer behaviour, services marketing and marketing mix. The idea validation phase would include topics like Segmentation, targeting and digital marketing for students to better understand the depths of marketing. Brand management is taught in the incubation phase where the student entrepreneur has the idea at hand, and is ready to understand how to create a brand out of it.
Understanding the "Economic" side of an efficient business decision making process. The course consists of both Micro-Economics & Macro-Economics. This helps the students understand the entire Economic side to the business with both modern tools being covered under Micro Economics & external factors being covered by Macro Economics.
Entrepreneurial Economics
Blue ocean strategy is the simultaneous pursuit of differentiation and low cost to open up a new market space and create new demand.The objective of this course is to provide a hands on approach to a structured innovation methodology. This approach can then be applied by the participants to start their own enterprise or carry their family enterprise to the next level.
The Creative Writing course reflects the belief that strong skills in critical thinking and written communication are central to any education. The mission of this unique course is to facilitate the intellectual and academic development of students and to provide them with a powerful tool that will prove useful in the entrepreneurial venture.
Writing is related to rhetoric, logic, reasoning, and critical thinking. Writing is therefore most fruitfully studied, not in isolation, but in a multidisciplinary program. One of the main goals of the program is to ensure that students graduate with exposure to various modes of writing and with well-developed written communication skills.
Storytelling Through Theatre
Most successful Entrepreneurs are great storytellers. The ability to speak confidently and deliver a persuasive message is an essential skill for all entrepreneurs. Today a smart entrepreneur needs to be able to master the art of what's known as 'vision-stories'. These are stories that paint a picture of what the future can look like. The module helps you become a good public speaker,  effectively and genuinely communicate about your venture and value addition and build a stronger connection with your audience and illustrate a compelling future that they want to participate in.
Financial accounting is the language of business. It is important to companies of any size. For small business owners, the importance of financial accounting is sometimes overlooked. By understanding how useful financial accounting is to a business the entrepreneur can ascertain the
financial results for the accounting period and the position of assets and liabilities on the last day of the period. It helps to keep a complete record of the financial transactions.
Entrepreneurial Strategy – Effectuation
The aim of the course is to give students a basic exposure & understanding of Entrepreneurship and Leadership in Entrepreneurial ventures. This requires not only hands on case study solving but a comprehensive understanding of what makes first generation Entrepreneurs effectual reasoners
This is a very important and fulfilling aspect of the course. If we talk about creating entrepreneurs in India, and not focus on 60% of the population who comes from rural India, then we will not be able to make an impact financially as well as socially. Rural Immersion Program helps students to understand rural markets, supply chains, rural consumers of India through field trips and personal interaction with the non-city dwellers. It helps them to understand their problems, lifestyle, needs and their cultural and economic buying perspective. Awareness of this sector facilitates students to design their products with a social benefit in mind.
Discover India Entrepreneurial Project
Discover India Entrepreneurial Project requires the students to travel to a place in India and conduct a research project related to Entrepreneurship. The important deliverables for the project are a research report, project presentation and a documentary film related to the research. The students are required to work along with the Program Office and plan the project and related logistics. The students are required to stay in the chosen city for 4 days and conduct the research.
Outbound Activities are the most exciting part of becoming an entrepreneur at MIDAS and is superior to many other providers of entrepreneurship courses in India. Through this, you get to interact with real business owners and their teams across industries like retail, F&B, education, travel, beauty, IT, logistics etc, meet their team, understand in depth about the market trends. This part of the exercise also enables you to talk to customers, decision makers in purchasing, to understand the nuances of the real market in which entrepreneurship thrives.
This is a two day outdoor program where the students go through rigorous physical and mental challenges. Activities like commando crossing, trekking, cave exploration, jungle cooking, zip line crossing etc are a part of this program. These activities were also aimed at creating a bond of togetherness among the group and foster a spirit of fellowship.